Treatment of glaucoma
ABOUT THE TREATMENT
Glaucoma most often occurs in the eye due to high pressure, so that the intraocular fluid can drain away. Non-existent treatment may lead to spatial vision loss, reduced field of vision, or blindness. Early treatment can slow or stabilize the disease; however, it cannot completely remove it. The goal of treatment is to reduce this pressure.
At iClinic we treat glaucoma using the SLT method. The principle of this method are short laser beam interventions in the cells that contain the pigment melanin. These cells perish thanks to the energy from the laser, the outflow of intraocular fluid improves, and this reduces the intraocular pressure. The laser has no effect on cells or parts of the eye that don't contain melanin.
THE COURSE OF TREATMENT
Treatment is preceded by a medical examination, during which the state of the disease is determined. The procedure is done within five minutes and it is done as follows:
About 30 minutes before the procedure, we apply drops to constrict the pupils.
The eye is numbed using anaesthetic eye drops.
A special lens is applied to the cornea using a lubricant. The doctor aims the beams on the target tissue with the help of the lens and a microscope.
Green light impulses act on the tissue. Cells containing melanin perish, the drainage of the intraocular fluid improves
After the procedure, the patient is given medication to prevent the rise of intraocular pressure.
Visible results typically appear around the third day after surgery.
THE ADVANTAGES OF THE SLT METHOD:
painless, performed under local anaesthesia
fast, takes 2-5 minutes
does not require hospitalization
the procedure is painless and without side effects
in case of need it can be repeated
fast recovery
a visible result already after a few days.
RISKS AND COMPLICATIONS
After the treatment of glaucoma using the SLT method, we may notice transitional redness of the eye or temporary increase in intraocular pressure. Otherwise, there are no postoperative complications.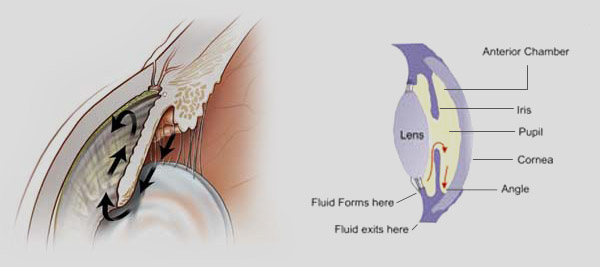 Fig. 1The flow of the intraocular fluid