No Touch/PRK- excimer laser
Surgery using the No Touch/TE PRK method has been done by our doctors for ten years. The essence of an excimer laser surgery is the change of the corneal curvature, which corrects the refractive error - nearsightedness, astigmatism, and farsightedness. The difference compared to the Lasek method is that the removal of the epithelial layer of the cornea is performed with the aid of a laser beam and not mechanically.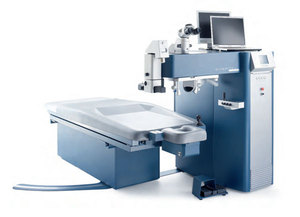 Excimer laser Allegretto Wave Eye-Q 400Hz

THE COURSE OF THE SURGERY
The eye is numbed using anaesthetic eye drops.
The laser beam removes the epithelium of the cornea.
The cornea is shaped by laser to the desired form. One diopter correction takes an average of 2 seconds.
A contact lens is applied under which the eye heals is applied to the treated cornea.
The eyes are irritable and sensitive to light 2-3 days after surgery.
ADVANTAGES
performed under local anaesthesia
it only takes about 15 minutes
it is outpatient, you can go home right after the surgery
the laser uses an eye tracking system during the surgery, which promptly responds to the movement of the eye, thus preventing its damage.
continuous removal of the refractive error with stable laser pulses. It is not necessary to smooth the cornea.
WHO IS THE SURGERY USING AN EXCIMER LASER SUITABLE FOR
To undergo a surgery using an excimer laser, it is required to meet the following requirements:
older than 18 years
stable refractive error
no risk of changes or corneal diseases (infection, degenerative diseases, keratoconus)
no rheumatic diseases, advanced diabetes, severe liver damage, severe immune disorders, etc.
The surgery cannot be performed on pregnant and breastfeeding women, patients with a pacemaker, and patients with a tendency to form excessive scars. However, the definite suitability of the surgery is decided by the doctor after the examination.
Price No Touch/PRK: 500 € / eye